There's a fine line between purposeful focus and destructive obsession.  I think Jimi spent time on both sides of that line during his career.  Had his intense desire to experience, create and express been tempered with a bit of prudence, he may still be with us today.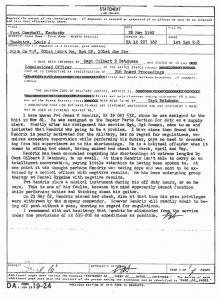 I found this section interesting, "Pvt Hendrix plays a musical instrument during his off duty hours, or so he says.  This is one of his faults, because his mind apparently cannot function while perfuming duties and thinking about his guitar".
I've often thought about what type of music Jimi would have written as he aged.  There was a softness and humility to him that may surprise those who only know of his wild onstage antics.  His peer, Eric Clapton, wrote beautiful acoustic arrangements later in his career.  I can't help but wonder if Jimi would have written music as hauntingly emotive as Tears in Heaven.
Interestingly, I've read similar stories about Michael Jordan.  His competitive nature and drive to win were an excellent match with his freakish athletic ability.  However, that same competitive nature affected other areas of his life.  He couldn't handle losing a friendly ping pong game with friends, for example.
He had an unhealthy desire to dominate everything the way he did on the basketball court, and at one point in his career, he came under scrutiny due to excessive gambling.  He wanted to win.  Always.
We can learn from all three of these icons.  Pursue your dreams, let yourself grow old, and don't gamble your life away.
– Caleb